Geocomposite Geotextile
?>
Brand :Lover
Product origin :China
Delivery time :10days
Supply capacity :100000m2 per day
Geocomposite Geotextile
Geocomposite Geotextile Description
Composite nonwoven geotextile for pavement reinforcement are impermeable nonwoven fabrics used to separate,filter,reinforce, protect
or drain.Geotextiles allow filtration or separation of granular layers in roads and rail applications,used to protect membranes in landfill
applications,used in coastal defence applications and used in landscaping to protect surfaces and structures from weeds and root growth.
Geocomposite Geotextile Application
1.Road stabilization applications
2.Roofs
3.Civil applications
4.Railway work
5.Landfill lining
6.Trenches
7.Dams
8.Fitration under rip rap and rocks
9.Environmental applications
Geocomposite Geotextile Features
1.It's UV resistant.
2.Geocpmposite geotextile with high temperature resistance to up to 230℃ maintaining structure stability and original physical properties.
3. High creep resistance.
4.Composite geotextile with resistance of erosion of chemicals in soil as well as the corrosion of gasoline and diesel etc.
5. With high tensile strength, thus able to adapt to uneven and irregular bases.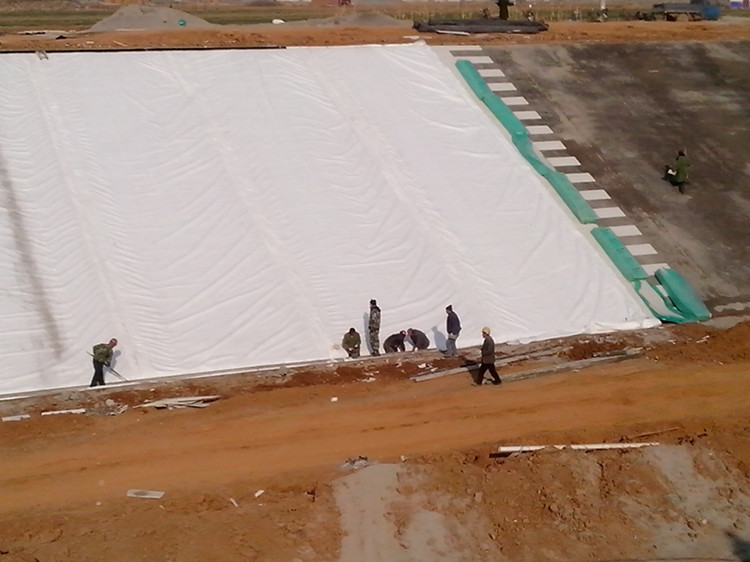 Get the latest price? We'll respond as soon as possible(within 12 hours)